Are you looking to open a sex toy sales business?
Do you want access to the best Adult wholesalers and drop-shippers in Australia?
Watch This Video.

If you still doubt the value of this report read on.…
Wholesalers that know what sells and have been supplying adult stores for years.
What about a list of wholesalers that drop-ship.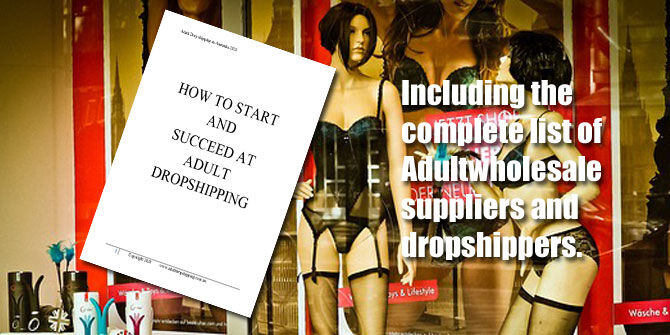 Not Just drop-ship but provide the tools to operate a successful online drop-shipping site.
Adult wholesalers that provide you the exact feeds you need to keep your store up to date.
Feeds that include images and descriptions to make your life easy.
Feeds that allow you to concentrate on what you need to do best, sell!
You could spend hours, days or years accumulating complete list.
One that gives you the edge.
A list that provides you the suppliers that will allow you to rule eBay and amazon.
Our comprehensive list of knowledge has been accumulated with over 20 years of adult business experience.
You can bypass the trial and error and start contacting potential wholesale drop-ship partners today.
It's simple all you need to do Is click this link and you will be whisked to the drop-ship wholesale report.
Not only do we supply a comprehensive set of dropshipping instructions we also give you access to our private member's area.
In this area, you will find the massive list of suppliers all laid out in an easy to use interface.
Not only do you get this amazing list, but we give you access to a team of experts that can become your design and marketing team for as little as $10 a job.
Imagine getting any of the following for just $10 bucks
Logo design
Video Creation
Video distribution
Article distribution
Blogs are written
The list is endless.
All for a measly $10 AUD, just this information alone is worth the cost of the report.
Around this point in a sales pitch, marketers are usually saying buy now.
But our offer is so fantastic it actually sells itself.
You get 1 year's access to the member's only area where we use over 20 years of experience to answer your questions.
How much would you pay for access to an industry expert?